Embrace your next locum tenens physician opportunity with an always-ready CV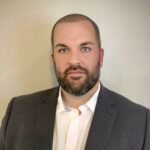 James is Senior Vice President and minority owner of Elite365. He brings decades of executive leadership and recruiting experience to his role, with a strong focus on locum tenens staffing. With a deep history of successfully building high-performing teams, he is committed to continuing to exceed expectations in healthcare staffing. Prior to Elite365, James held influential leadership positions at prominent industry organizations, including the role of Director at Curative and the role of Senior Director of Recruiting at the Delta Companies. When not pursuing excellence in staffing, he can be found coaching his children's basketball team, spending quality time with his family, and traveling the world to explore new cultures.
The demand for locum tenens providers is on the rise. Especially given the recent decline in practicing clinicians:
11% under 40 are not currently practicing medicine
12% in their 40s have left clinical practice
15% in their 50s no longer practice medicine
So, it's no surprise that almost 90% of U.S. healthcare facilities are now using locum physicians every year.
If you're looking to embrace locum career opportunities, that's good news for you!
The less great news is that more than 50,000 physicians are working locum tenens assignments annually. That means you're up against a lot of competition for these coveted roles.
You have to be ready at a moment's notice when the perfect locum tenens job opportunity presents itself.
Having an always-ready resume at your fingertips is the best way to gain an edge.
Highlight your locum tenens experience with solid references
As a healthcare provider, you worked hard to earn your credentials. Therefore, when applying for a position—including a locum tenens role—you'll want to make sure your hard-earned skills and experience shine. Especially when seeking specialty provider positions.  
Focusing on your work experience and medical education are a must. But you cannot overlook the one part of your curriculum vitae that gives you an even greater advantage when vying for the same role—references.
Reliable Validation is Recruiting Gold
Current references are vital for getting ahead.
Ideally, you want to refresh your references every six months. Be sure to include at least one person from your current or most recent organization, as well people from past educational experiences, if possible.
Use as many types of references as you can such as leaders, coworkers, mentors, hiring managers, or other professionals within your healthcare circle—four to six references are a good number to aim for. In addition, make sure contact information is current, and routinely confirm that each person remains willing and able to act as a reference.
At a time when resume embellishment is rampant, those hiring for healthcare roles must verify the accuracy of CV claims. References act as that verification, and having them ready to go can mean the difference between securing that next great locum tenens assignment or missing an ideal opportunity.
3 DOs and DON'Ts for a locum tenens resume
Whether you plan to pursue locums as a career, or take on assignments to supplement your existing healthcare position, having a CV you can share at a moment's notice is an important professional asset.
In addition to maintaining current references, there are other steps you can take (or avoid) to ensure you and your resume stand out from the competition.
DON'T
Write a novel. If your CV isn't scannable, you risk getting lost in the shuffle. Highlight the key points about your experience and education using short, descriptive phrases that catch recruiters' attention.
Ignore keywords. Job postings use particular words and phrases when describing a position and its requirements. Mirror those keywords in your resume to reinforce that you're a great match for the role.
Reuse an old resume. If you're submitting the same resume from years ago, you're doing yourself a disservice. CV formats have evolved, as has your experience. Create a new resume, and tailor it to the role you're after.
DO
Include all locum roles. Was your last locum tenens assignment years ago? Have you had a mix of short-term (think days) and long-term placements? Regardless, include them all. Every experience is important and sets you apart.
Spotlight credentials. Be sure to highlight awards and certificates you've earned. Maintain up-to-date licenses and call those out as well. Also indicate your areas of healthcare specialization to help match you with best-fit locum tenens roles.
Consider a resume partner. Having another set of eyes can help you refine your resume. Try to find a colleague or someone familiar with the healthcare field who would be willing to review your CV and provide honest feedback.
Follow your locum tenens calling
Locum tenens possibilities are seemingly limitless as demand for healthcare practitioners remains high.
Gaps in coverage will always occur. Thus the need for medical professionals quickly and efficiently will always remain.. With a resume that's ready for anything, you'll be primed to jump at exciting job opportunities when and where you find them.
For more tips on optimizing your chances of a successful locum tenens career path, reach out today to continue the conversation.
Get to work with Elite365
You want an experienced healthcare staffing partner. You want someone who sees you as more than a number or a placement. You want access to opportunities you cannot find anywhere else. You want an easy locums process—especially when everything else these days seems so hard. You want to be seen as the elite provider you are.
We can do all that for you, and so much more. Just contact us to get started. It's that easy.