Elite365 Announces Strategic Acquisition of Kobor MedSearch, LLC
The acquisition represents Elite365's commitment to growth and expands its anesthesia staffing services
[TAMPA, FL, August 2, 2023] – Elite365 – Healthcare Workforce Solutions (Elite365) today announced its acquisition of Kobor MedSearch, LLC, a healthcare staffing firm with more than 25 years of expertise. This acquisition is a key milestone in Elite365's strategic roadmap and aligns with the organization's mission to fill urgent healthcare workforce gaps to optimize patient care.
Elite365 is heavily invested in both organic growth and growth through strategic acquisitions. The organization is experiencing rapid acceleration as it continues to increase its scale and reach across the market. In particular, locum tenens is an important aspect of that strategy. Staffing Industry Analysts expects 10% growth in locum tenens in 2023 and another 8% growth in 2024.
"Our healthcare partners are struggling to reach optimum staffing levels across their facilities, and we want to provide them with as many options as possible to fill those vacancies, " said Elite365 CEO, Tracy Clark. "This acquisition expands our ability to place high-quality healthcare professionals in rewarding careers, augments our locum tenens service, and allows us to better support the in-demand anesthesia provider market."
Kobor MedSearch has a proven track record of success and a reputation for high-touch and quality service. The company specializes in the anesthesia staffing market, both for locum tenens and permanent placement. Kobor MedSearch's boutique nature is a complement to Elite365's holistic and transformative approach to talent solutions.
"We are excited to welcome Betty Evenson and the Kobor MedSearch team into our organization," said Russel Hicks, president of Elite365's locum tenens division. "She has done an incredible job building her company into a well-respected organization that provides top-notch service by connecting clients with the most qualified CRNAs and MDs. She brings a wealth of knowledge and expertise to our team, and I look forward to partnering as our locum tenens division, headquartered in Dallas, continues to grow."
Kobor MedSearch president Betty Evenson will continue in her role as president to help ensure continuity of service for customers and to partner with the Elite365's team in uniting the two organizations. Evenson has built a strong brand in the marketplace by supplying healthcare organizations with the best and most qualified providers and staff who exceed expectations and integrate seamlessly into medical teams.
"What drew me to the Elite365 team was our shared values," Evenson said. "We believe in what this team is building and their unique approach to healthcare staffing. With their support, resources, and strong industry connections, we can continue to build upon Kobor MedSearch's decades of success. I'm excited for what's to come!"
The healthcare industry was turned upside down by the pandemic and continues to face dire staffing shortages and rising costs. Elite365's strategic growth plan is positioning the organization to take the lead in providing effective solutions that address the shortage in cost effective ways. The organization's locum tenens, international nurse, and long-term care staffing solutions meet critical hiring needs quickly and within budget to enable healthcare institutions to maximize revenue without compromising patient care.
Anderson LeNeave & Co. acted as exclusive financial advisor for Kobor MedSearch, LLC.
Elite365 is a healthcare staffing firm with a new vision for care. We're elevating every aspect of healthcare staffing to give hardworking medical professionals brighter, better career destinations and provide hospital systems and healthcare facilities with the skilled specialists needed to cover urgent workforce gaps and optimize long-term coverage. Backed by Regal Healthcare Capital Partners, we have the national reach and resources to address complex and changing workforce demands. To learn more visit: https://elite365.com.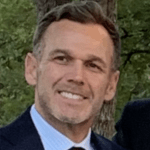 Russel is President, Locum Tenens, for Elite365. He brings more than 20 years' experience as a healthcare staffing industry leader to the role, with expertise that has been quoted in notable publications, including Modern Healthcare, The Wall Street Journal, the New England Journal of Medicine, and Staffing Industry Analyst. Russel's mission at Elite365 is to offer providers highly desired, well-supported placements that align with their goals, while providing organizations with strategic staffing that accelerates short-term revenue and long-term profitability.